Yoga Bachelorette Party Barcelona
Barcelona is an amazing city and has many things to offer: a beautiful old city center, beaches, lots of sunny days, delicious cuisine and nightlife. Together with the laid back lifestyle makes Barcelona a very popular city trip destination. As you roam the streets of Barcelona you will notice many amazing parks and beautiful beaches in and around the city which create amazing settings for the perfect yoga class. For you and your friends we organize a private group yoga class to make your Bachelorette party in Barcelona an unforgettable one!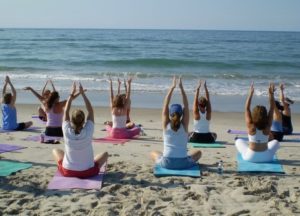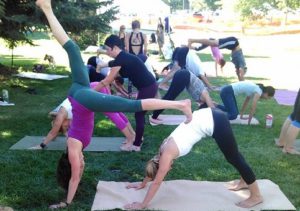 Our private yoga class lasts for 1 hour and 15 minutes and starts with a warm up to loosen up the muscles before continuing with the class. The class will be dynamic and we practice different postures suitable for all levels practitioners. In the class there will be lots of interaction too since we will also practice some, so called, 'partner yoga' postures and that is always a lot of fun!
You and your friends can choose whether you would like to take the class on the beach or in the park. Arrive in comfortable clothing and bring a big towel, sarong or pareo and a bottle of water to keep yourself hydrated.
The price for a private bachelorette yogaclass depends on the group size. Contact us for availability and prices! mail@yogaflower.nl