Join this Urban Yoga Retreat in the beautiful and vibrant city Barcelona!
6 days of sightseeing and yoga-ing the city! Come into the Barcelona bubble!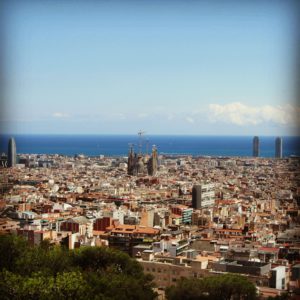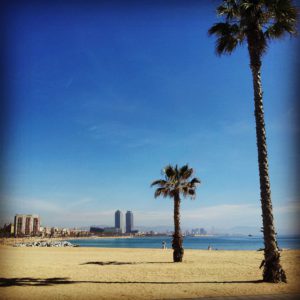 Barcelona has it all: an historical city center, amazing architecture, beaches, good weather and delicious and affordable food. Barcelona has an amazing energy and there is a lot to explore.
If you are planning a city break to Barcelona and you want to treat yourself to something special and different then join this 6 days/5 night non-residential retreat weekend! You can enjoy a blend of daily yoga classes, sightseeing and exploration of the city, healthy food and time to relax. In this way you get to know the city but at the same time you give yourself some conscious quality time to treat your body and mind!
You will discover the hidden treasures of Barcelona, get advice about where to go and what to do and we make sure that you will have a very unique city break experience!
Who are we?
We are Yoga Flower! A Dutch yoga teacher and tour guide living and working in Barcelona for 3 years. In love with the city and enjoying the abundance of beauty the city has to offer. Passions: city life, conscious living, simple things, nature, being active, enjoying good food, a glass of wine or a local beer, yoga, biking and chocolate cake. Knowing what Barcelona has to offer and loving the practice of yoga. And that is what we want to share with you!
Part of the program will be: 8 yoga classes with different themes, 3 hour guided informative bike tour on beautiful bamboo bikes, a hike with amazing views over the city, lunch and dinner in the vegetarian hotspots of Barcelona and the best tapas restaurant in town, brunch picknick in city nature, flamenco concert in a local bar, yogaclass on the beach and enough time to explore the city by yourself and to take a siësta!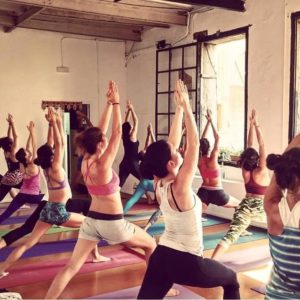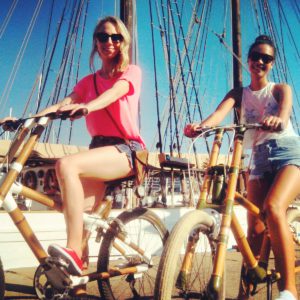 Daily program (subject to change):
Thursday June 15th
Arrival
20h: Meeting in one of the best tapas bars in town
Friday June 16th
8 – 9:30h Yogaclass: theme backbends
11 – 14h 3 hour guided bamboo bike tour
14 – 15h Lunch in vegetarian restaurant
15 – 19h Free time
19:30 – 21h Yogaclass with live music: restorative
Saturday June 17th
9:30 – 11h Yogaclass: theme twists
11 – 18h Free time
18 – 20h Yoga Workshop: yoga at the wall
21h Flamenco concert in local bar (optional)
Sunday June 18th
10 – 11:30h Outdoor yogaclass with amazing views
12 – 13:30h Vegetarian Brunch picnic in city nature
13:30 – 16h Hike in city nature with amazing views
16h – Free time
Monday June 19th
10:30 – 12h Outdoor yogaclass at the beach
12 – 20h Free time
20:30 – 21:45h Yogaclass: hipopeners
Tuesday June 20th
8 – 9:30h Yogaclass: forward bends
10 – 12h Brunch in vegetarian restaurant and closing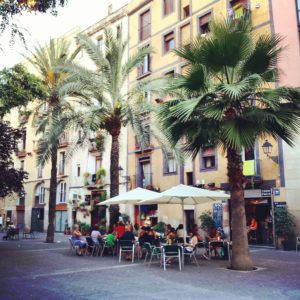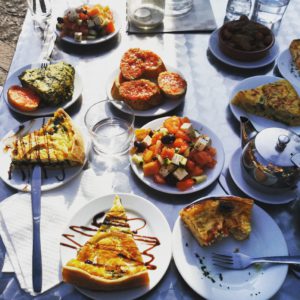 Start and end of the retreat
The first welcome meeting will be on Thursday June 15th at 20h in one of the best tapas restaurants in the arty, alternative and upcoming neighbourhood El Raval in the center of Barcelona. Here you can taste a variaty of delicious tapas in a very nice ambience and meet your fellow retreat participants.
The retreat finishes on Tuesday June 20th after Brunch at around midday.
Accommodation
Accommodation is not included in the price and participants are responsible to book their own. In Barcelona accommodation comes in a wide variety: from luxury hotels, to cozy boutique hotels to cheaper hotels and hostels, bed & breakfast, apartments and (shared) rooms. We suggest that you search a place in one of the following neighbourhoods to make sure you are close to the yoga studio and the places where we will have most of our activities: El Raval, Sant Antoni, Poble Sec, Universitat.
We will provide you a list of recommended accommodation after you signed up for the retreat. It might be also possible to share accommodation with other participants. After you signed up we can help you getting in touch with other participants.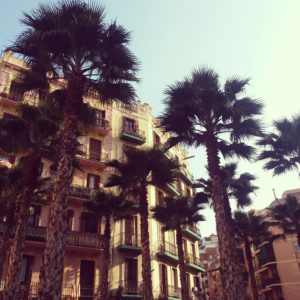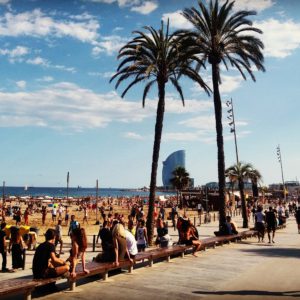 Food
Barcelona is a great place for food experiences and you will find a huge amount of restaurants. The prices of food and drinks are very reasonable. Over the last few years a couple of very good vegetarian/vegan restaurants opened it's doors and Barcelona becomes more and more vegetarian and vegan friendly. Since this retreat will have a healthy and conscious touch we will have a few of our meals in some of the best healthy restaurants in town: the lunch on Friday and the closing brunch on Tuesday.
After you signed up for the retreat we will provide you a list of recommended restaurants and bars in the different neighbourhoods in Barcelona so you won't loose time searching for good places to eat and drink!
Yogaclasses and the yoga locations
The yoga classes will be offered by Keetie and will be dynamic: Hatha Vinyasa style. We will have 6 of the classes indoor in a very nice yoga space in the neigbourhood El Raval.
In the classes we focus on 'breath-synchronized movement'. We practice postures and movements that are smoothly flowing and following the rhythm of each inhalation and exhalation. We strengthen, detox and re-energize the body and at the same time the breath-synchronized movement relaxes the mind and helps to release any blockage of energy flow throughout the body.
An average class starts with a warm-up followed by sun salutations and standing postures. In the second half of the class we practice seated and reclined postures and we finish with a relaxation. A lot of attention will be given to the technique of the yoga postures and we use blocks, belts and the wall.
The classes are suitable for all levels practicioners and the idea is that beginners will learn the most common yoga postures and learn how to use the breath in the practice and at the same time the more advanced practitioners will have the opportunity to profound and to deepen their practice. The classes will be give with a smile and their will always be some uplifting music played during class.
Every day we have a different class theme. On Friday night we will have a special restorative class which will be a quiet and relaxing practice with live music. On Saturday we will have a 2 hour yoga workshop in which we focus on the technique of the most common postures.
Since Barcelona has a very good climate and a lot of sunny days 2 of the classes will be outdoor at amazing locations: the beach/seaside and a spot in city nature with stunning views over the city.
Yogamats and props like blocks and belts will be provided but you are welcome to bring your own.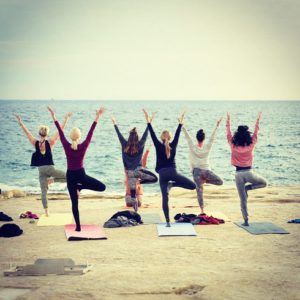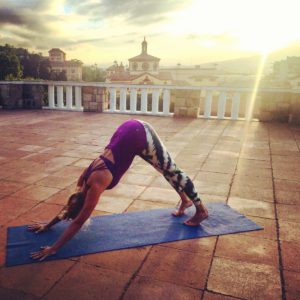 Groupsize and language
The retreat will have an international character and will be offered in English and can be combined with Dutch and Spanish.
The groupsize will be a maximum of 10 – 12 participants.
Free time and sightseeing
We offer a few excursions during the retreat but there will be also plenty of time to explore the city by yourself. On Friday we will do a 3 hour guided bike tour on very cool bamboo bikes through the different neighbourhoods of the city. You will learn about the history of the city and we will pass by the most important highlights but as well the more unknown hidden treasures. Our experience is that it is best to do the biketour on the first day so you will have a good impression of what the city has to offer and where to go and what to do in the following days of your city break!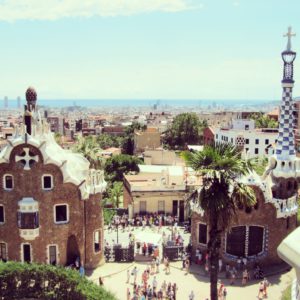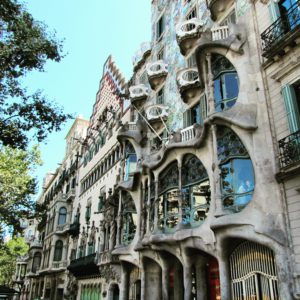 Price: €295

What is included in the price?
– 8 themed yoga classes (6 indoor and 2 outdoor)
– use of yogamats and props
– tapas meeting dinner on the first day: shared tapas and 2 welcome drinks
– 3 hour guided bicycle tour on bamboo bikes (bike rental included)
– 3 course set lunch in healthy vegetarian restaurant
– guided hike in city nature
– brunch picnic in city nature
– closing brunch in healthy vegetarian restaurant
– Barcelona info package with information about accommodation, restaurants/bars, tours, excursions and must do's in Barcelona.
What is not included in the price?
– flighttickets
– accommodation
– remaining/additonal meals
– costs for transportation and public transport
– additional bike rental
– additional tours/excursions
– your personal insurance e.g. travel & health insurance, cancellation insurance, liability insurance
Travel tips and practical information
Flights to Barcelona are affordable and it is best to book your flight tickets as early as possible. We have good experiences with Vueling, a Spanish airline.
Barcelona El Prat Airport has 2 terminals. From both terminals you can easily take a bus into the city center (aerobus). The trip takes 20 – 30 minutes and costs €5,90 one way. You can also buy a return ticket which is slightly cheaper.
Within the city it is easiest to travel by metro. This is fast and cheap and gets you to almost all the places of interest.
A very nice way to get around the city is by bike. There is a lot of bike rental places and the costs will be 10 – 15 euros for a day. After you signed up for the retreat we will provide you a list with bike rental places with quality bikes.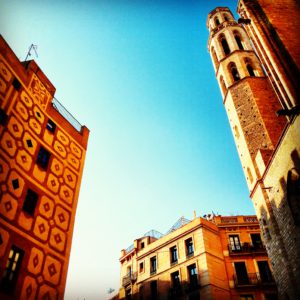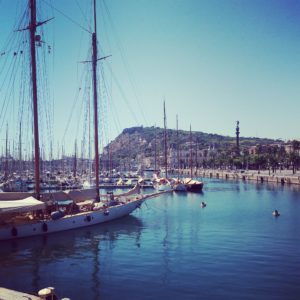 How to sign up?
Sign up by sending an email to mail@yogaflower.nl
We will send you a registration form with the terms and conditions for this retreat. After signing and sending this form back to us and after receiving the payment we will send you a package with all the practical information for your stay including recommendations for accommodation and restaurants.
Please let us know if you have any questions or in case you need some more information!
We hope to welcome you in this retreat and to share a unique Barcelona experience with you!
Get inspired and find more information about Barcelona and this retreat on our facebook page: Barcelona Urban Yoga Retreats
Hasta luego y namasté!