(DUTCH BELOW)
Exploring Barcelona by bike is a great way to get to know the city. In a 3 hour private bike tour we will show you and your friend(s) or family the different neighbourhoods, the harbour and the seaside, explain you about the history of the city, give you advice about where to go and what to do and restaurant tips. We offer the tours in English and Dutch.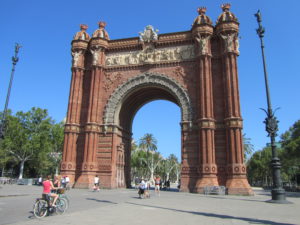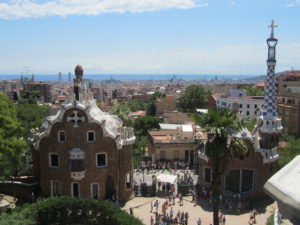 Barcelona has it all: an historical city center, amazing architecture, beaches, good weather and delicious and affordable food. Barcelona has an amazing energy and there is a lot to explore. If you are planning a city break to Barcelona and you want to explore the city in an active way then a bike tour is highly recommended!
You will learn about the history of the city and we will pass by the most important highlights but as well the more unknown hidden treasures. Our experience is that it is best to do the bike tour on the first day so you will have a good impression of what the city has to offer and where to go and what to do in the following days of your city break!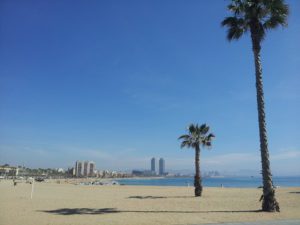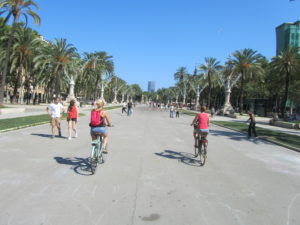 The bike tour is always private and needs a minimum of 2 participants. Before we start the tour we will ask you your preferences for the tour. You might have some requests for sights and in this way we can offer you a custom made and personalized tour to fit your interests and curiosities. We make sure you will have a very unique Barcelona experience!
We will ride comfortable 'Holland' bikes and depart from a very centrally located bike shop in the Gotic quarter in the center close to La Rambla.
Prices for a 3 hour bike tour including bike rental: €32,50 per person
We offer group and family discounts. Contact us to get more information about prices and availability: mail@yogaflower.nl
We hope to see you soon in Barcelona!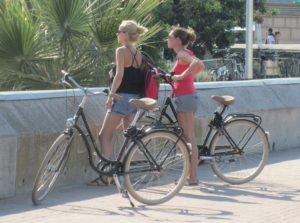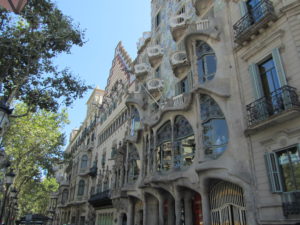 (DUTCH)
Een fietstour door Barcelona is een geweldige manier om de stad te leren kennen! In een 3 uur durende privé fietstour laten we jou en je vriend(en) of familie de verschillende wijken zien, de haven en het strand, vertellen we over de geschiedenis van de stad, geven we je advies over wat te doen en tips voor restaurants. We bieden de tours aan in het Nederlands of Engels.
Barcelona heeft alles: een historisch stadscentrum, geweldige architectuur, stranden, heerlijk weer en heerlijk en betaalbaar eten. Barcelona heeft een geweldige energie en er is heel veel te ontdekken. Als je de stad op een actieve manier wilt ontdekken dan mag een fietstour tijdens je citytrip niet ontbreken!
Tijdens de tour hoor je alles over de geschiedenis van de stad en we laten je de highlights zien maar zeker ook de meer onbekende verborgen plekken. Onze ervaring is dat een fietstour op de eerste dag van je citytrip een geweldige manier is om een goede indruk te krijgen van wat de stad te bieden heeft. De fietstour geeft je ideeen voor wat je in de overige dagen van je citytrip nog allemaal kunt gaan doen!
De fietstour is altijd privé met een minimum aantal van 2 personen. Voordat we op pad gaan vragen wij je naar je wensen voor de tour. Je hebt wellicht verzoeken voor plekken die je graag wilt zien en op deze manier kunnen wij je een tour op maat aanbieden die voldoet aan jouw interesses. Wij zorgen ervoor dat je een unieke Barcelona ervaring hebt!
We rijden op comfortabele fietsen en vertrekken vanuit een centraal gelegen fietswinkel in de Gotische wijk vlakbij de Rambla.
Prijs voor een 3 uur fietstour inclusief fietshuur: €32,50 per persoon
Wij bieden groeps- en familiekorting. Neem contact met ons op voor prijzen en beschikbaarheid: mail@yogaflower.nl
Wij hopen je snel te zien in Barcelona!