The next Yoga & Hiking Retreat will be September 1-4, 2016! You can sign up now!
Treat yourself to quality time and join this Yoga & Hiking Easter Retreat!
A long weekend of yoga, outdoor activities, beautiful countryside, nature and delicious food in a wonderful accommodation close to Girona.
Location:
Our accommodation is Can Portell, a beautiful former farmhouse situated in St. Andreu del Terri, a hamlet in the Catalan Campo to the north of Girona.The Dutch lady Debbie, owner of 123ole, will be our host. The house has a big garden with colourful accommodation. We will sleep in real gypsy wagons, colourful caravans and romantic refurbished stables. Each have their own atmosphere and decor. Take a look at the pictures and the website: www.123ole.nl
We will have breakfast, lunch and dinner in the former stables underneath the house or, when the weather allows, outside on the terrace.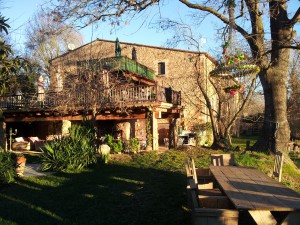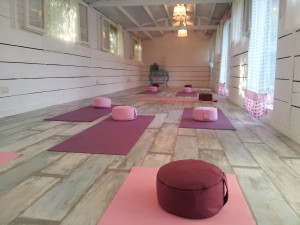 Program:
The retreat starts on Friday March 25th at midday with a warm welcome followed by a delicious lunch and will end Monday March 28th after breakfast.
The retreat includes 2 yoga classes a day, one in the morning and one in the late afternoon, and 2 hikes in the beautiful surroundings. There is free-time in between to do whatever you want: being lazy, getting a massage, having good conversations, enjoying the peace, reading a book…
The yoga classes will take place in a cosy indoor yoga space which is also located in the garden.
In the morning we will have an active and invigorating yoga session, hatha vinyasa style, of 1,5 hour. In the late afternoon we will have a more mellow and restorative session of 1,5 hours.
The yoga classes are suitable for all levels yoga practitioners. Postures will be modified for beginning or less advanced students. The classes are taught trilingual (English/Spanish/Dutch).
We will organise 2 beginners/intermediate level hikes: a 3 hour hike in the surroundings of our accommodation and a 5 hour hike in the area of Sant Aniol (an hour drive away from our accommodation) where we will pass natural pools filled with clear and fresh water and the pilgrimage church of Sant Aniol d'Aguja. We will bring our picknick-lunch here.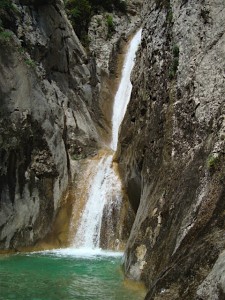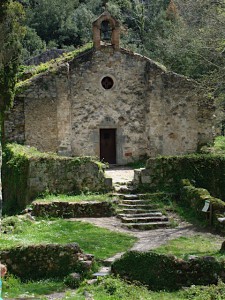 Accommodation:
We will sleep in amazing and comfortable gypsy wagons, caravans and refurbished stables. The gypsy wagons and caravans sleep 1-2 persons and the stables 2 – 3 people.
The house has all the extra comforts you need: big couches to relax, wireless internet access and a kitchen where you can prepare your coffee or tea.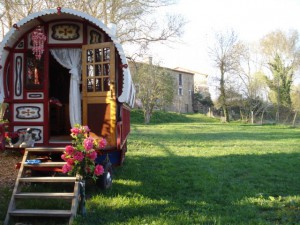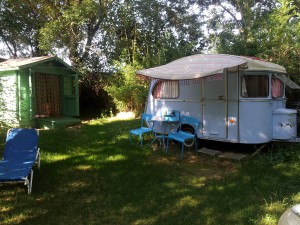 Food:
We will have 3 delicious and abundant meals a day: a breakfast buffet, a big lunch and a 4 course evening meal including wine. The meals will be mainly vegetarian.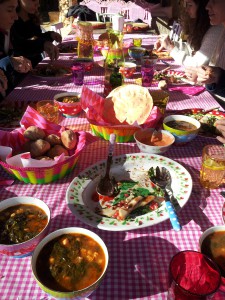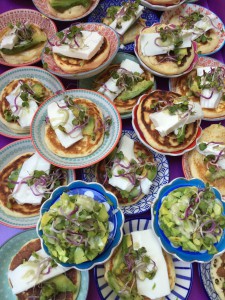 Price:
The costs for the retreat are €400 including 3 nights shared accommodation and breakfast, 3 lunches, 3 dinners, all yoga sessions, use of yogamats and 2 hikes. We will organise a transfer to the accommodation to and from the busstop in Cornella del Terri (for people coming from Barcelona by bus) and to and from the area of Sant Aniol where we will do the hike. This is included in the price too.
Bus/traintickets or airplane tickets are not included in the price. There is an additional fee if you want a private room. Please contact us if you prefer this.
How to get there?
From Barcelona we recommend you to take the Teisa bus from the corner Consell de Cent – Pau Claris to the village of Cornella del Terri (approx 1,5 hours, €13,20 one way). Bus schedule for March 25th: departure 9:30am and arrival 11am.
Other options: several trains a day leave from railway station Sants to Girona. From Girona railway station there are buses to Cornella del Terri.
The nearest airport is Girona, approximately a 25 minutes drive from the accommodation. Please let us know if you come by plane and need a transfer from and to the airport. We can arrange this for you at an additional cost.
For people from the Netherlands: Ryanair has flights from Eindhoven to Girona but not every day. Vueling and Transavia have a lot of flights from Schiphol Amsterdam to Barcelona. From Barcelona airport you can either rent a car to go to the accommodation (approx 1 hour) or take a train from Sants railway station or the Teisa bus from the city center (as mentioned above).
How to sign up?
Send an email to info@123ole.nl to sign up and you will get the confirmation and the details for payment from the accommodation.
If you have any questions regarding to the program, please don't hesitate to contact us: mail@yogaflower.nl
We hope to welcome you in Can Portell to share a beautiful Easter weekend together!