This retreat is almost fully booked! Reserve one of the last spots now: info@123ole.nl
The next Yoga & Hiking Retreat will be from 2 – 6 September 2017. Registration open!
Treat yourself to quality time and join this Yoga & Hiking Spring Retreat!
For the third time we will organize this amazing long weekend of yoga, outdoor activities, beautiful countryside, mountains, nature and delicious food in a wonderful accommodation close to Girona!
You can choose: 4 DAYS May 10 – 13 or May 11 – 14 or 5 DAYS May 10 – 14.
Location:
Our accommodation is Can Portell, a beautiful former farmhouse situated in St. Andreu del Terri, a hamlet in the Catalan Campo to the north of Girona.The Dutch lady Debbie, owner of 123ole, will be our host. The house has a big garden with swimming pool and colourful accommodation. We will sleep in real gypsy wagons, colourful caravans and romantic refurbished stables. Each have their own atmosphere and decor. Take a look at the pictures and the website: www.123ole.com
We will have breakfast, lunch and dinner outside on the beautiful terrace.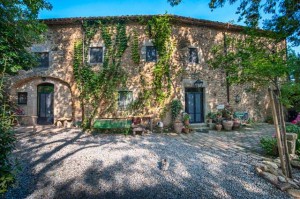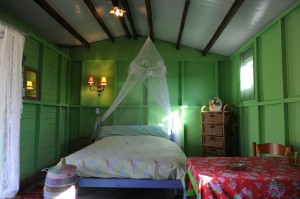 Program:
The 4 day retreat starts on Wednesday May 10th or Thursday May 11th at midday with a warm welcome followed by a delicious lunch and will end Saturday 13th or Sunday May 14th after dinner. The 5 day retreat starts on Wednesday May 10th at midday with a warm welcome followed by a delicious lunch and will end Sunday May 14th after dinner.
The retreat includes 2 yoga classes a day, one in the morning and one in the late afternoon, and 3 hikes in the National Park Garrotxa and the beautiful surroundings of our location. There is free-time in between to do whatever you want: being lazy, getting a massage, having good conversations, enjoying the peace, reading a book…
The yoga classes will take place on the yoga platform in the garden or in the cosy indoor yoga space which is also located in the garden.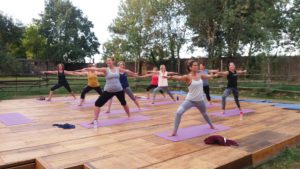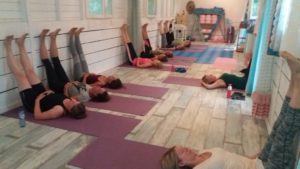 In the morning we will have an active and invigorating yoga session, hatha vinyasa style, of 1 – 1,5 hour. In the late afternoon we will have a more mellow and restorative session of 1 – 1,5 hours.
The yoga classes are suitable for all levels yoga practitioners. Postures will be modified for beginning or less advanced students. The classes are taught trilingual (English/Spanish/Dutch).
We will organize 3 beginners/intermediate level hikes in the stunning national park Garrotxa and in the beautiful surroundings of our accommodation. Good hiking shoes and a medium/good condition are required. We will bring our picknick-lunch for the full day hikes.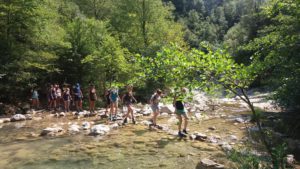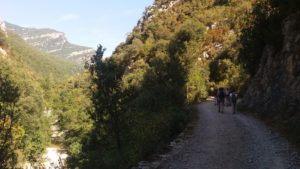 Garrotxa
The Garrotxa is without doubt the most important area in the eastern pre-Pyrenees because of its diversity and exceptional surroundings. Its extremely abrupt relief has shaped the landscape, vegetation, fauna and human settlements throughout history and has allowed the continuation of a relatively isolated natural space that preserves an important biological richness. So much so, that it has been declared a Space of Natural Interest and has been designated as a Zone of Special Protection for Birds in the Nature Network 2000.
The relief of the Alta Garrotxa, marked by deep valleys enclosed by long cliffs and walls of rock, is what gives the area its name: les garrotxes are "rough lands of bad tracks". The landscape of the Alta Garrotxa is truly spectacular, not just for the magnificence of its topography but also for it forestry, dominated by holm and common oaks.
Moreover, this extensive territory is richly endowed with regard to its cultural heritage: archaeological sites, farmhouses, hamlets, hermitages…
The Garrotxa's Volcanic Zone is the best example of volcanic terrain on the Iberian Peninsula. It has 40 volcanic cones and more than 20 lava flows. The mountain landscape, the sun and climate provide a variety of vegetation, often exuberant, with holm oaks, common oaks and beech trees of exceptional value to the landscape.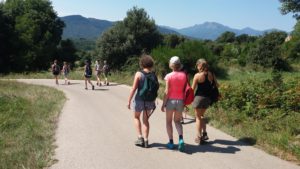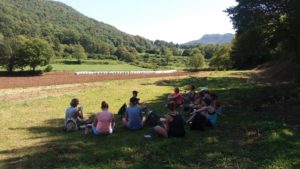 Accommodation:
We will sleep in amazing and comfortable gypsy wagons, caravans and refurbished stables. The gypsy wagons and caravans sleep 1-2 persons and the stables 2 – 3 people.
The house and garden has all the extra comforts you need: a swimming pool, big couches to relax, sunbeds, wireless internet access and a kitchen where you can prepare your coffee or tea or get your additional snacks and drinks.
Food:
We will have 3 delicious and abundant meals a day: a breakfast buffet, a big lunch and a 4 course evening meal including wine. The meals will be mainly vegetarian.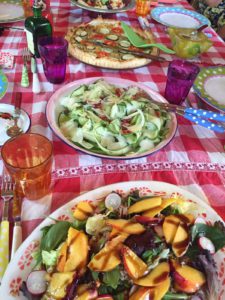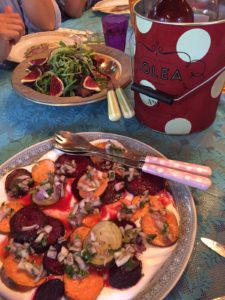 Price:
4 day retreat: €425 including 3 nights shared accommodation and breakfast, 4 lunches, 4 dinners, 7 yoga sessions, use of yogamats and 3 hikes.
5 day retreat: €515 including 4 nights shared accommodation and breakfast, 5 lunches, 5 dinners, 9 yoga sessions, use of yogamats and 3 hikes.
Airplane and train/bus tickets are not included in the price. We can organize a transfer to the nearest busstop in Cornella del Terri (free of charge), trainstation in Girona (additional costs depending on the amount of people), Girona airport (additional costs depending on the amount of people).
Depending on the number of people attending the retreat and the availability of cars there will be additional costs for transfer to the starting points of the hikes. To keep these costs and the costs for transfer to the airport/trainstation affordable we advice to rent cars between the participants of the retreat. Our experience is that in this way these total costs could be kept as low as 30 – 50 euro per person. If the group size allows we will organize bus transportation.
We will send participants 1 – 2 weeks before the retreat starts an e-mail with practical information about the retreat and this e-mail will also be useful to get in touch with participants to organize and share transport.
There is an additional fee if you want a private room. You can also book extra nights. Please contact Debbie if you prefer this: info@123ole.nl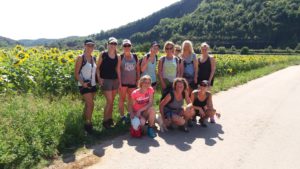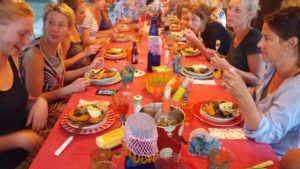 How to get there?
The nearest airport is Girona, approximately a 30 minutes drive from the accommodation.
From Barcelona by public transport:
Several trains a day leave from Barcelona-Sants railway station to Girona (38 minutes fast train AVANT and 1,15 minutes regional train): www.renfe.es
There is a bus service to the village Cornella del Terri (close to the accommodation) through bus company Teisa from Girona railway station. This bus company also does a bus service from Barcelona center to Cornella del Terri  (corner Consell de Cent – Pau Claris, approx 1,5 hours, €13,20 one way): www.teisa-bus.com
Travel tips for people from the Netherlands:
Transavia has direct flights from Amsterdam or Rotterdam/Den Haag to Girona and Ryanair from Eindhoven to Girona.
We recommend the following flights:
Transavia Amsterdam – Girona May 10th or May 11th departure 6:20h arrival 8:20h
Transavia Girona – Amsterdam May 13th departure 21:55h arrival 00:05h or May 14th departure 22:20h arrival 00:30h
Fligths to Barcelona:
Vueling, KLM and Transavia have a lot of flights from Schiphol Amsterdam to Barcelona. From Barcelona airport you can either rent a car to go to the accommodation (approx 1 hour) or take a train from Barcelona-Sants railway station or the Teisa bus from the city center (as mentioned above).
How to sign up?
Send an email to info@123ole.nl to sign up and you will get the confirmation and the details for payment from Debbie.
If you have any questions regarding to the program or flights/transport, please don't hesitate to contact us: mail@yogaflower.nl
If you have any questions about the accommodation or the food, contact Debbie: info@123ole.nl
We hope to welcome you in Can Portell to share a beautiful weekend together!