Upcoming yoga classes by donation in the Vondelpark Summer 2018:
Saturday July 21 and 28, August 4, 11, 18 and 25 Time: 10:30 – 11:45h
Wednesday July 25, August 1, 8, 15, 22, 29 Time: 19 – 20:15h.
Meeting point: entrance of the Vondeltuin (this is next to the entrance of the Vondelpark at the side of Amstelveenseweg). See the events on facebook. Contact me: mail@yogaflower.nl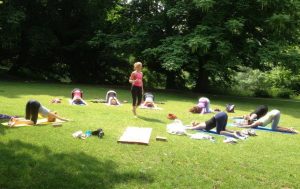 (English below)
Yoga in de buitenlucht is heerlijk: je ruikt het gras, je ziet de bomen, je hoort de vogels en voelt een zacht windje op je huid
De les:
In de hatha vinyasa yogales beoefenen we houdingen op het ritme van de adem. De les is dynamisch en de houdingen vloeien in elkaar over op elke in- en uitademing. We focussen op de ' techniek' van yogahoudingen. De houdingen versterken de core van het lichaam en maken o.a. de wervelkolom, schouders en heupen meer flexibel. Het werken met de adem heeft een rustgevend en ontspannend effect.
Wat neem je mee:
Een yogamat of als je die niet hebt een grote handdoek of sarong. Daarnaast een flesje water en een dekentje of trui om jezelf warm te houden tijdens de eindontspanning.
Kosten:
De les is op donatiebasis.
Meeting point:
Een kwartier voor aanvang van de les verzamelen we bij de ingang van terras de Vondeltuin (dit is het terras naast de ingang van het Vondelpark aan de Amstelveenseweg). Samen lopen we naar een fijne plek in het park voor de yogales
Goed om te weten:
De les is geschikt voor alle niveaus. Beginners zijn zeker welkom!
De les wordt zonodig tweetalig gegeven: Nederlands en Engels.
De les gaat door als het niet regent. Eventuele annulering van de les wordt uiterlijk een uur voor aanvang van de les bekendgemaakt in het evement op facebook.
Stuur mij bij vragen een mailtje: mail@yogaflower.nl
Ik hoop je snel te zien in het Vondelpark!
~~~~~~~~~~~~~~~~~~~~~~~~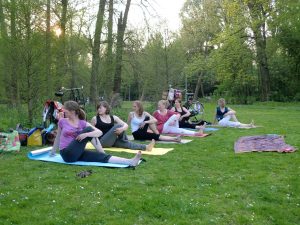 Practicing yoga in the open air is a lot of fun and gives a sensation of freedom: you can smell the grass, see the trees, hear the birds and feel a little breeze on your skin.
Class explanation:
We will practice hatha vinyasa yoga. In the class we focus on 'breath-synchronized movement'. The class is dynamic and we practice postures and movements that are smoothly flowing and following the rhythm of each inhalation and exhalation. A lot of attention will be given to the technique of the yoga postures, the strengthening of the core, the spine, the abdominal muscles and the legs and the opening of the shoulders and the hips.
What to bring:
A yoga mat or if you don't have one a big towel or sarong, a bottle of water, something that keeps you warm during final relaxation (blanket or jumper).
Costs:
The yoga class is by donation.
Meeting point:
We will meet at the entrance of the Vondeltuin 15 minutes before the class starts (this is the bar/terrace at the side of Amstelveenseweg). Together we will walk to a nice spot in the park.
Good to know:
The class is suitable for all levels! Beginners are very welcome to join.
The class will be taught bi-lingual: Dutch and English.
The class is happening if it's not raining. A cancellation of the class will be announced in the facebook event latest one hour before the class starts.
If there's any questions please let me know by sending me an email: mail@yogaflower.nl
I hope to see you in the park!
Namasté!